COO-LAO SWEET & SOUR PURE VEGAN PINEAPPLE RISOTTO
Portion: 2-3
Cooking time: 40-50 minutes
Ingredients
:
Salt, plant oil, soy sauce, cornstarch, pure vegan ketchup, cooked white sesame seeds
Ripe pineapple one or a half,
Big sweet pepper one half (color optional)
Soy meat 4-5 pieces
Cherry tomatoes 4 or so.
Rice: 50-100g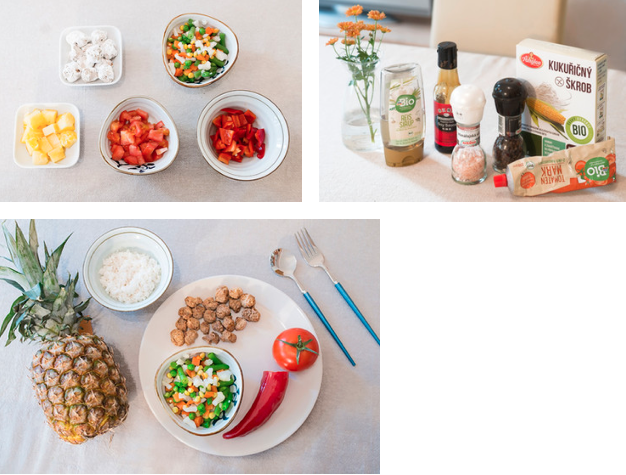 Instructions:
1. Cook the rice with rice cooker
2. Soak soy meat in hot water for 15-20 minutes.
3. Pour a small amount of soy sauce, salt and sugar into a large bowl and stir well. Set aside.
4. Cut the pineapple in half lengthways. Along the edge of the pineapple, cut each side of the pineapple pulp, then use a large spoon to scoop up the whole pineapple pulp (Be careful,do not break the outside of the pineapple). Reserve the remaining pineapple shell for later use.
5. Cut the pulp of the pineapple, sweet pepper, soy meat and cherry tomato into similar-sized diamonds or squares.
6. Marinate the soy meat in the prepared sauce (step 2) for 3 to 5 minutes, then pour it in the cornstarch (make sure each side of the soy meat is covered with cornstarch).
7. Heat the oil at the same time while the soy meat is being marinated.
8. Put the soy meat into the oil and fry it for about 5 minutes, stirring from time to time. When it is cooked, take it out of the pan.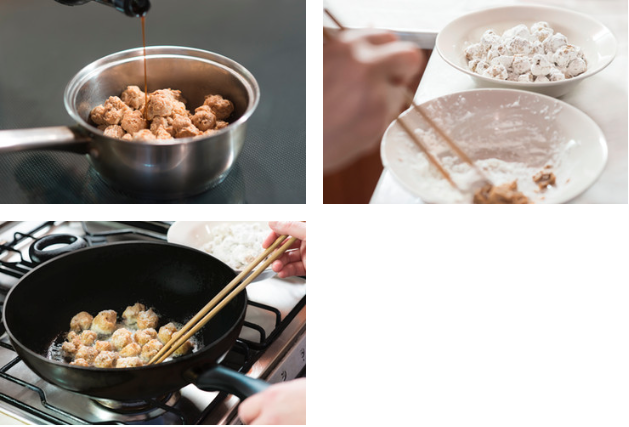 9. Put oil, pineapple, sweet pepper into the pan to cook for 3 minutes, then add the tomato ketchup and salt, then add soy meat and cherry tomatoes, stir well.

10. Put oil in the pan and fry the rice, add soya sauce, pepper and salt in it. Then add the rice into fried vegetables.
11. Put the fried dish into the shell of the pineapple prepared before, sprinkle some white sesame seeds on the top, and add some lemon or basil leaves to serve.