RISOTTO wITH zUCCHINI & bASIL 🌿 cREAM AND wALNUTS (ONIONS & GARLIC FREE)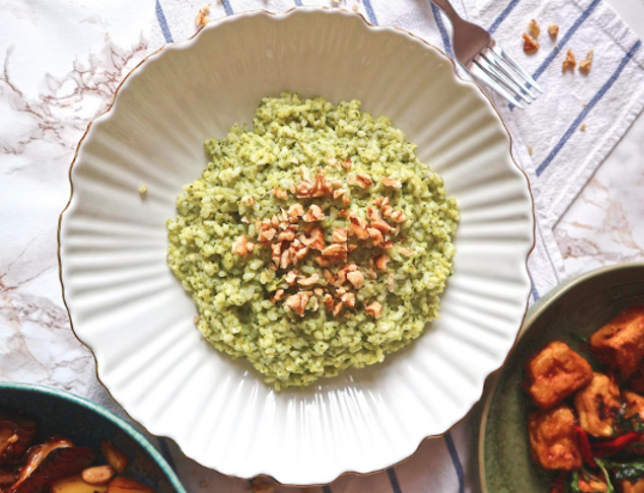 Portion: 2
Prep time: 10 minutes
Cooking time: 25 minutes
Total time: 35 minutes
Ingredients:
1/2 teaspoon of oregano
1 zucchini (cut into small cubes)
1 tablespoon of chopped fresh basil (more for flavor)
150g classic rice ( carnaroli or arborio rice)
1 teaspoon of rice vinegar
350g Water (or vegetable broth)
Salt and pepper to taste
1 tablespoon vegan butter (we used Alsan-S margarín)
1 tablespoon vegan Parmesan (we used Simply V na pastu)
1/2 vegan cheese (we used Lahůdkové plátky přírodní)
Chopped walnuts
Instructions:
1. Heat a non-stick pan, pan fry oregano, then add in zucchini, salt and pepper and cook for about ten minutes over medium heat until the zucchini is cooked.
2. Add in the chopped fresh basil and transfer the zucchini to a food processor, blending them until smooth.
3. In a high-sided saucepan with a drizzle of oil, add the rice and toast it for a couple of minutes. Then add the rive vinegar and once it has evaporated, add the boiling water till it is absorbed.
4. Two minutes before finishing cooking, pour the zucchini cream into the risotto, season with salt and stir in the vegan butter, vegan cheese and Parmesan..
5. Serve it with a spoonful of walnut shreds
Tip: Add a few drops of lime juice to this risotto for a touch of freshness.