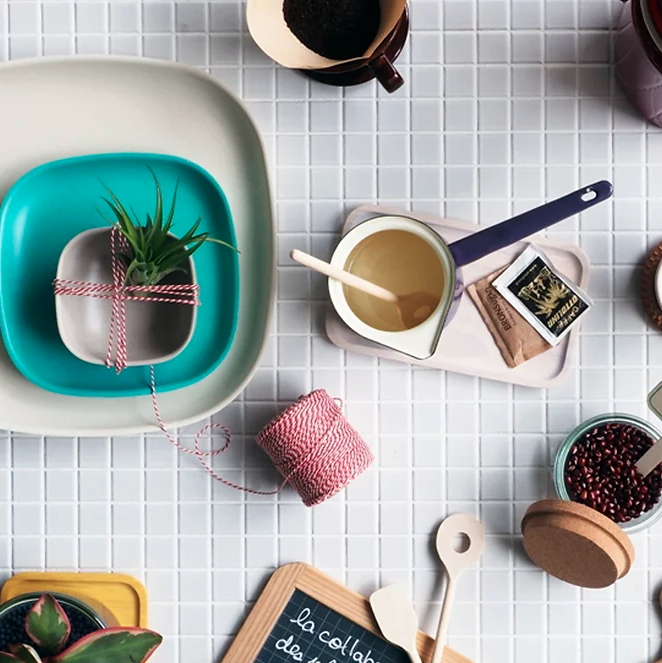 Eco-friendly product | EKOBO
EKOBO, launched in 2003, is a French eco-lifestyle brand.
We were grateful to have the opportunity to interview the co-founders, who are also the product designers. Boo and Bruno wanted to combine an eco-friendly lifestyle with the beauty of living. EKOBO means "ecological, beauty and design for good."
In 2000, Bruno (then in his twenties) traveled to northern Myanmar. Surrounded by bamboo, the villages gave him a sense of harmony between humans and nature. He was inspired by how the locals made good use of bamboo in their daily lives. When he and Boos' first child was born, the couple quickly saw the necessity of using reusable, non-toxic dishware, which spawned their premium bamboo fiber collection for kids. EKOBO's creative process is fueled by their three lovely daughters; each product in the collection is a "footprint" of one of the girls.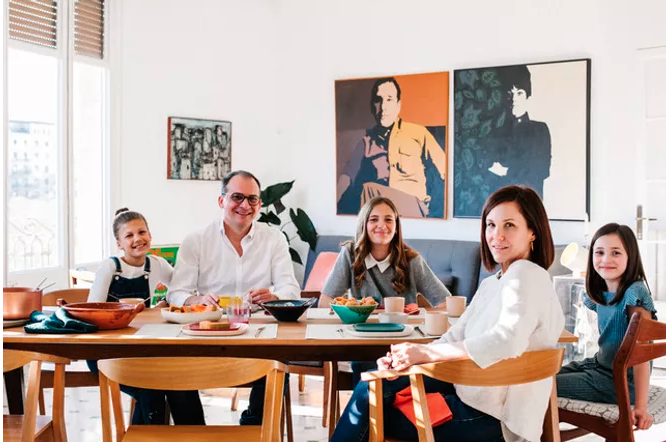 Eco-friendly product | EKOBO founder
Why did EKOBO choose bamboo as the main material for their tableware?
Bamboo is one of the most renewable resources on our planet: it can grow up to one meter per day and doesn't need any fertilizers, pesticides, or herbicides in order to grow. As Bruno further explained, "Our bamboo is responsibly-sourced and managed from its origin to production, and is 100% traceable (chopstick factory sawdust). We found that this non-transformed organic bamboo "waste" material could be ground into a fine powder that, when mixed with resin, can be used to create durable eco-design objects. Our material is stable and unchanging, posing no health risk with daily use, making it ideal for hot and cold food or liquids."
Because China grows 80% of the bamboo in Asia, EKOBO cooperates with a manufacturing partner specializing in on-site bamboo fiber transformation, situated near the various chopstick factories around Shanghai. All employees are paid a fair living wage.
In 2010, after years of developing bamboo handicraft products, EKOBO created their signature bamboo fiber eco-composite, BIOBU®. Besides bamboo, EKOBO has introduced other sustainable materials such as cork, rePET fabric, food-grade silicone, and certified organic cotton (GOTS).

What experiences and lessons Bruno has accumulated during EKOBO's growth as a brand?
When he started the business 16 years ago, both eco shops and products were rare. Though being a pioneer wasn't easy, the business became meaningful as more people began trying (and following) an eco-friendly lifestyle. Bruno says his company needs to stay dynamic, humble, and flexible as a means of continuing to both grow and improve.
What's his vision for the company?
EKOBO now offers over 500 references in a wide palette of forms and colors. In the future, he says there will be more child- and baby-oriented products. A functional yet durable lunchbox for nomads (mixing bamboo and other sustainable materials) will also be introduced, in hopes of promoting not just eco-friendly products but a sustainable lifestyle as well.
EKOBO's story reminds us of the bamboo's growth process: it takes four years to grow only 3cm. After the fifth year, however, it grows by 30cm a day, taking only six weeks to reach a height of 15 meters. In fact, in the previous four years, the bamboo has been extending its roots into the soil for hundreds of square meters in every direction, solidifying its foundation.

Have you found the roots of your life? Only when the direction is clear and our roots go deep enough can we experience real, sustainable growth.
*BIOBU®
BIOBU is an alternative to traditional plastics and fragile, disposable dishware. Classed as a biopolymer, this composite material is comprised of highly renewable bamboo fiber. A 100% non-toxic food-grade A5 melamine binder helps extend its life—a sustainable practice if there ever was one! BIOBU products comply with all food safety standards (FDA and LFGB) and are free of BPAs, PVCs, Phthalates, Lead, Cadmium, and Mercury.
*GOTS
The Global Organic Texto Standard, or GOTS, is the world's leading textile processing standard for organic fibers (including ecological and social responsibility) and is supported by an independent certification from the entire textile supply chain.
We're delighted to have had this opportunity to interview EKOBO, receiving their experiences and thoughts along the way, and hope we can all create a better future together. You can buy Ekobo lunch boxes in our Eshop with 10% discount.
Thank you for reading!