Herbivore is a vegan shop located in the street Rašínovo nábřeží 34, Praha 2. This bistro-café-shop fusion has a great location overlooking the Vltava river, and close to Vyšehrad. It sells various types of vegan food, including plant-based milk, syrup, beans, soy products, energy bars, sweet/salty sauce, flours etc. The shop offers also a vegan buffet, which is charged by weight with free bread. The pita bread is home-made and costs only 15 per one. The stuff is friendly and speaks well English. The interior of the shop is American style; students or freelancers often go there and work there. Herbivore makes also coffee and vegan desserts, such as raw peanut butter cheesecake. It is a good place to go if you want to look for some vegan/organic products and try some simple vegan food.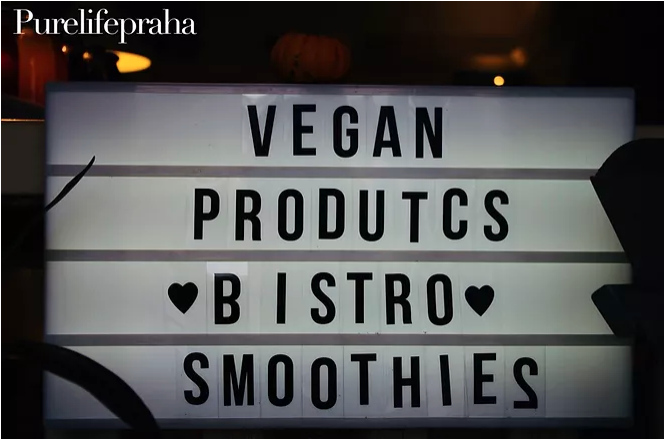 Vegan Bistro and shop | Herbivore
We visited the shop last week and we ate baked Portobello with quinoa and vegan cheese. Vegan cheese melted on the top of Portobello, so delicious! Their buffet usually has 10 kinds of food, most salads are onion and garlic free. The stuffs were very friendly and explaining to us what we could eat.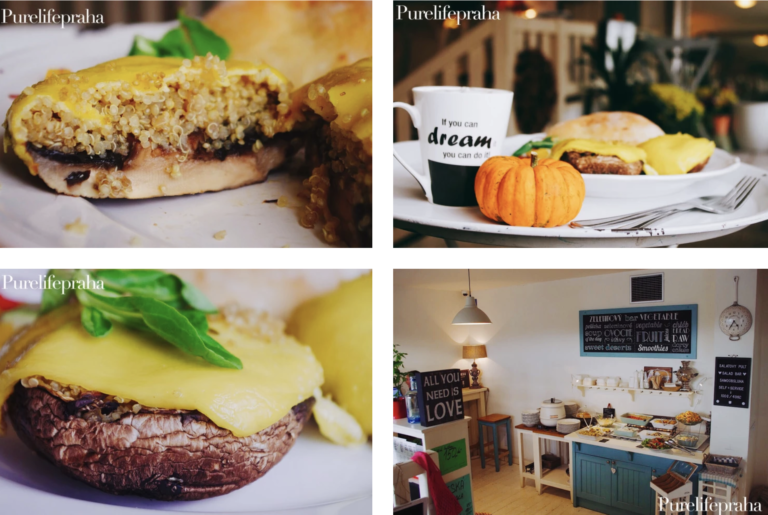 Herbivore has been open for more than 3 years. The owner Mr. Čížek told us, his wife was already vegetarian before he changed the diet. He became vegan due to his health issue. When the shop was open in the beginning, it sold only vegan products, but after 2 months Mr.Čižek started to sell salad, then he added the vegan buffet as well. Mr. Čížek said, nowadays Czech people care more about the quality of food. Therefore, many people do visit the shop and buy vegan products even though the price is higher than usual one. Now, Herbivore has more than 50 vegan products suppliers, including the Czech companies or other European ones: Countrylife, Veganz, Probio, Lifebar and so on. 
Mr. Čížek opens the shop, hoping to share the healthy lifestyle with more people and offers to them the quality products. Now he has a newborn baby girl, who is also vegan. 
Herbivore is close to the Naplavka (the river bank), so every Saturday morning, after visiting the weekend market people will go to the shop and have a cup of coffee or buy some vegan products. Moreover, Herbivore will decorate the terrace outside the shop, which may also become a space for holding events in the future.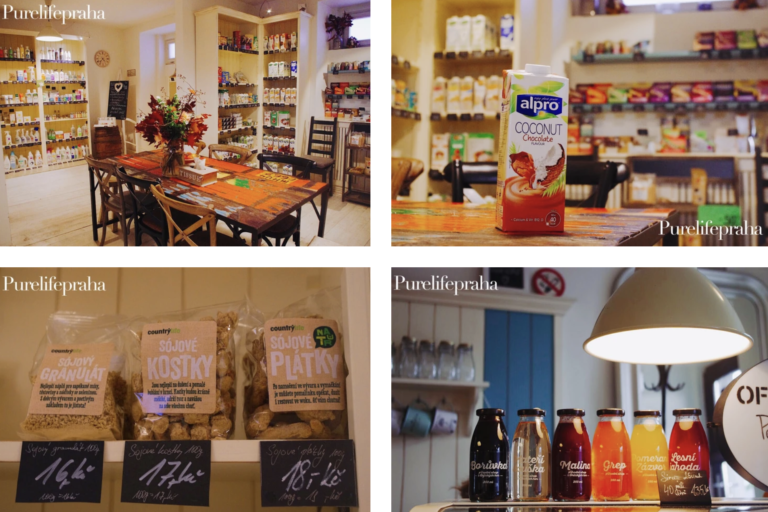 One stuff was asking us why we do not eat onions, garlic neither other five pungent spices; he was looking for onions and garlic free recipes online, but it was hard to find any.
Mr. Čížek mentioned that more and more Czech people are requesting food without onions and garlic, therefore in the future he may offer some food without 5 pungent spices.
Welcome to Herbivore to try the drinks, desserts, buffet and vegan products!
Address: Rašínovo nábřeží 34, Praha 2 (tramstop: výton)
Contact: +420606085425
Payment type: Cash & Credit card
Website: https://www.herbivore.cz/
Thank you for your reading!