Ingredients:
Mungo sprouts
2 carrots
1 smoked tofu
Bigger potato
Zucchini 1/2
Rice paper for frying
Plum sauce
Nutritional yeast
Soy light sauce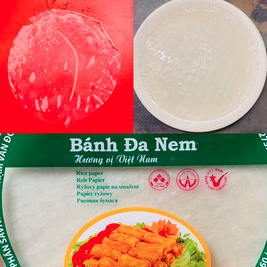 Intructions:
1. Cut potato, carrots, zucchini and smoked tofu into thin pieces.
2. Put the potatoes in a larger pan, then add the carrots. Rest for about 5 min.
3. Add zucchini, tofu and sprouts. Add salt and pepper, add 2 tablespoons of nutrition yeast and leave choke under the lid.
4. Add a little water and 2-3 tablespoons of soy sauce. Don't forget to mix it.
5. When the potatoes and carrots are soft, we set aside the filling for the rolls.
6. Prepare rice paper for frying one by one on a plate with hot water (as picture)
7. We put the first "wet paper" on a mat that is anointed with a little oil and put vegetables in it and tangle it (you can also use two layers of "paper"). When the rolls are ready, fry them carefully on the pan in each side.
8. Serve with plum sauce.