VEGAN CURRY OF TEMPEH AND VEGETABLES WITH COCONUT MILK (ONIONS & GARLIC FREE)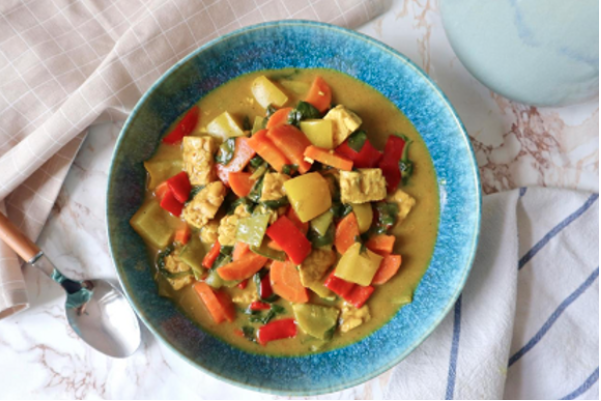 Portion: 2
Prep time: 10 minutes
Cooking time: 25 minutes
Total time: 35 minutes
Ingredients:
150g tempeh
165-200 ml coconut milk (more for creamer and flavor)
120g spinach (or herbs)
60g snow peas (used Imperial peas)
1 carrot
½ yellow pepper
½ red pepper
5 teaspoons of curry powder (Used SONNENTOR Curry sladké )
Corn slurry (1 tablespoon cornstarch + 2 tablespoons water)
Instructions:
1. Remove the ends of the snow peas and cut them into 5-6 cm long pieces, cut the peppers into cubes, cut carrot in half lengthwise and then into slices, chop the spinach leaves.
2. In a wok or large pan pour a drop of oil and fry the carrot with a pinch of salt. Then add a cup (250 g) of water, cover with a lid and cook for a few minutes.
3. When the carrot have softened, add the rest of the vegetables, the diced tempeh and the curry powder in the wok. Mix well and add some water to cover the vegetables slightly and cook for about 3-5 minutes until the vegetables are soft.
4. Pour in the coconut milk and cook for 2-3 minutes. Season well, adjusting with salt or curry if necessary,
Add the cornstarch slurry into the soup while stirring continuously until the soup thickens. If not, add more cornstarch slurry.