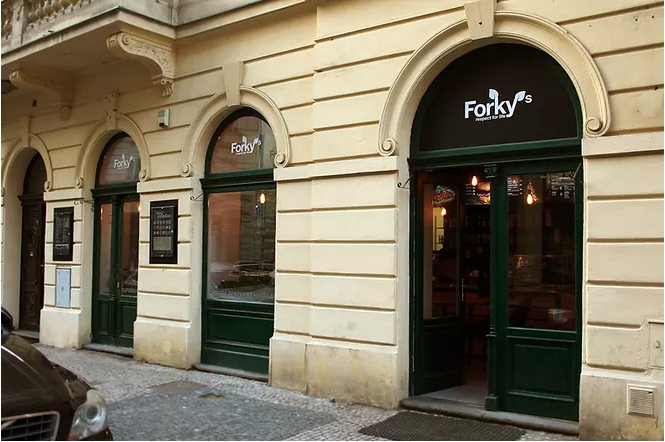 Vegan restaurant | Forky's
Open for 11 months so far, Forky's has already become one of the most popular vegan restaurants in Prague. Its location, which is just 110 meters away from the green-line metro station 'Staromestska' guarantees the visits of guests. The first Forky's was open in Brno (the second largest city in Czech Republic). Now there are three Forky's vegan restaurants in Europe, two in Czech Republic, one in Slovakia.
The bistro isn't focused on any single type of food, and their offers change regularly, depending on the season. Breakfasts are available from Monday through Friday, along with weekly menu items. Brunch is available at the weekend.  Gluten-free waffles, homemade vanilla ice cream and croissants are new additions to their summer offerings.

Last week, we interviewed one of the managers of Prague Forky's, Jan. He said he used to be the chef of Forky's in Brno, and he became a vegan five years ago due to the health benefits and animal rights. He said, "We're glad that the market of the plant-based restaurant is growing. More vegan restaurants have been open in Prague. This is a good trend and good for our society and ecology as well. We do not consider other vegan restaurants as competitors. We like to visit them and try different kinds of vegan cuisine."
Forky's menu covers a wide range of cuisines: vegan burgers, Vietnamese pho, "Not dog", "Nofish" and many more for a foodie. You can also create your own "Super bowl". In all, the price is affordable which is around 150kč per person. The restaurant specializes in combining healthy ingredients, such as fresh vegetables, tofu, seitan, to maintain the food quality. Jan told us that the restaurant is not only meant for tourists but open for everyone, locals, students and not-yet vegans as it is to show that vegan food can be tasty, inviting at a fair price.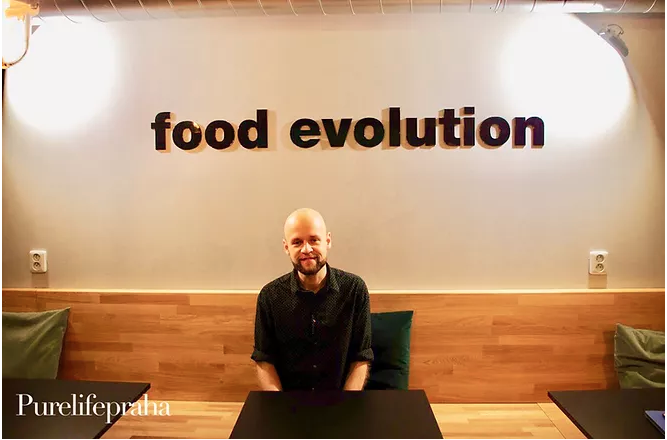 Vegan restaurant | food evolution
We tried Phõ (149kč) and "Nofish" (139kč). Both dishes are quite abundant in content. Phõ, presented in an outlandish manner, has light soup seasoned with anise, flavored seitan, mongo beans sprouts, coriander and shitake. It is seemingly a good choice in a cold winter.

"Nofish" is made with potato, sweet potato chips and grilled tofu with seaweed sprinkled on the top. Asian cooking style seemed to be main feature of Forky's of which the dishes are seasoned with the Asian spices like coriander, curry, anise etc. Jan said Asian ways of cooking is easy to be applied in vegan dishes, which dairy products and meat can be omitted and replaced.
The restaurant "Forky's" is named after the owner's surname 'Vidička', meaning "fork" in Czech. Forky's is open not only for business but concerns about the animal rights for 1% of Forky's income is donated to organizations on animal rights. We are touched by the owners' wish to promote the healthy plant-based diet and to show a better and healthier lifestyle.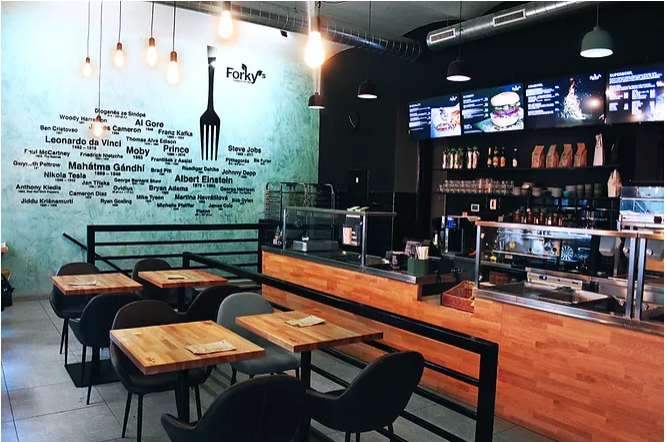 Vegan restaurant | Forky's
There is a way to save the world and make it more harmonious. The changes start from our plate. Our food choice truly matters because it is the crossroad of life and death for the animals.
*Pure vegan diet options (without five pungent vegetables): Super bowl, Buddha bowl, Pho, Nofish. Jan said they are thinking to add more dishes to their menu and probably in the future there will be more food choice with onions, garlic and other five pungent spices.
More information can be found on the website of Forky's: http://www.forkys.eu/en/
Open hours:
Mon– Fri 11:00 – 22:00
Saturday 12:00 – 22:00
Sunday 12:00 – 20:00
Address: Veleslavínova 93/10, Praha
Email: [email protected]
Phone: +420 773 080 337
Thank you for your reading!