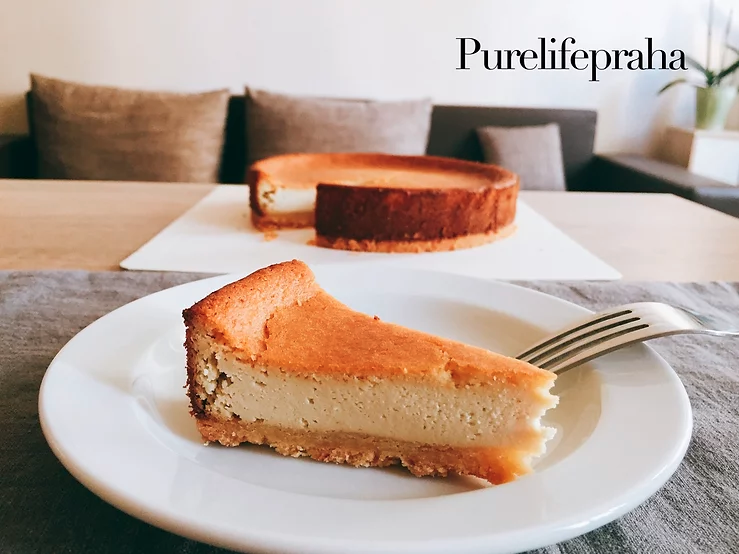 Ingredients:
(for a mould ø 20cm)
Crust
Self-raising flour 60g
Almond powder 60g
Sugar 44g
Shortening 40g
A pinch of salt
Cheese filling
Raw cashew nuts 160g (soaked overnight)
Coconut cream 360g
Silken tofu (firm) 260g
Sugar 90g
Lemon peel 4g
Lemon juice 32g
Corn starch 8g
Vanilla 10g
Coconut oil 30g
Soya lecithin 12g
A pinch of salt
Here you can find the video: Vegan Cheesecake 
Instructions:
1. Put the dry ingredients for the crust into a mixing bowl. Add the shortening and knead it into a
smooth dough. Line the baking mould with baking paper and press the dough down firmly all
around the bottom. You can smooth the dough out with a tablespoon. Preheat the oven to
160°C and bake the crust for15 minutes.
2. Meanwhile, you can prepare the cheese filling. Cut the vanilla pods lengthwise and scrape out the vanilla with a knife. Add all ingredients for the filling into the blender. Mix the mixture on
medium level for 1 minute and then on high level for another 1,5 minutes. Pour the filling
into the pre-baked crust through a fine strainer/filter (to get rid of bubbles).
3. Put it back into the oven at 160°C for 50 minutes. After 50 minutes, check the cheesecake if
the filling is already firm and toasted. If not, bake it for another 20 – 30 minutes
with frequent checking, so it doesn't get burnt. When the cheesecake is baked, let it cool off and take it out of the mould.