Diameter for mold is 25cm
Use the cup 300ml
Ingredients:
2 bananas
1 and 1/2 cup of rice flour
1/2 cup of cane sugar (usually add less)
1/2 baking powder gluten free
1 teaspoon soda
pinch of salt
1/2 cup of soya milk
1/4 cup of sunflower oil
Bit cinnamon
220 g Forrest fruit (blueberries, raspberries…)
Instructions:
1. Heat the oven to 220 degrees.
2. We crush bananas inside the bigger bowl.
3. After add flour, baking powder, soda, salt, soya milk, cinnamon, oil, sugar and add fruits.
4. Stirring all together and after put the dough to the cake form and bake for a 200 degrees about 30 – 40 minutes (according to the oven ).
You can choose your favourite topping!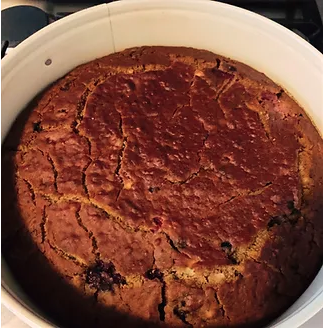 If you try to make it, we will be happy to see your sharings.