Pan Mee with tofu crumbles (onion and garlic free)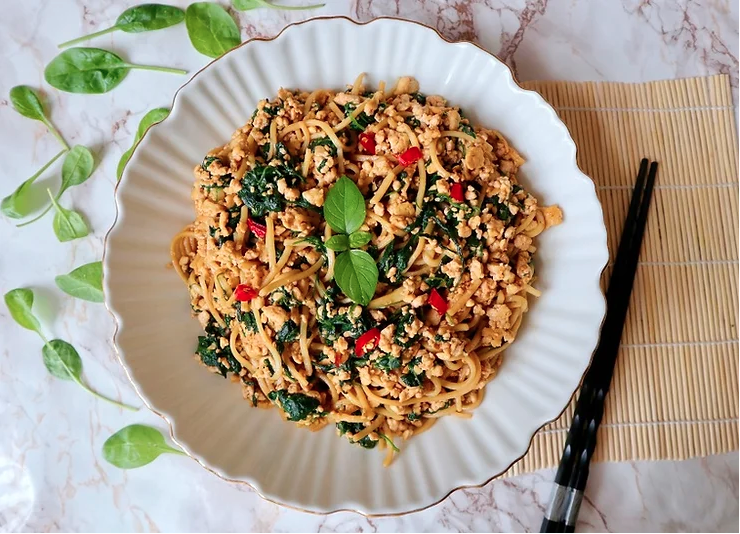 Portion: 2
Total time: 40 minutes
Ingredients:
Tofu crumbles⁣⁣
1 pack of (350g) firm tofu, drained, pat dry, mashed⁣⁣
6~9 medium brown mushrooms, diced
Salt to taste
Oil for cooking
Sesame oil
A handful of basil
⁣Sauce
1.5 tablespoons soy sauce
1.5 tablespoons vegan oyster sauce
2 teaspoons dark soy sauce
2 teaspoons agave syrup
1 teaspoon salt, 3 tablespoons water
Combine all the sauces in a small bowl and stir well. Season accordingly
Garnish suggestions
Blanched green veggies ⁣
Instructions:
1. In a heated non-stick pan, dry tofu crumbles until lightly brown by stirring continuously. Then add 1 tablespoon oil and continue to cook until tofu looks chewy/spongy, push aside.
2. Add another teaspoon of oil and saute mushrooms until cook. Add Stir in half of sauce and continue to stir until tofu absorbs all the sauce. Push the mixture to the side of the pan.
3. Meanwhile, cook the noodles according to instructions on packaging. Drain the cooked noodles out of cold water, add some sesame oil and stir well. Put aside.
4. Add noodles to the side of pan, and slowly add the remaining sauce to the noodles and stir well. Season accordingly. Add basil leaves and stir well, turn off the heat.
5. Serve warm with blanched green veggies (Optional).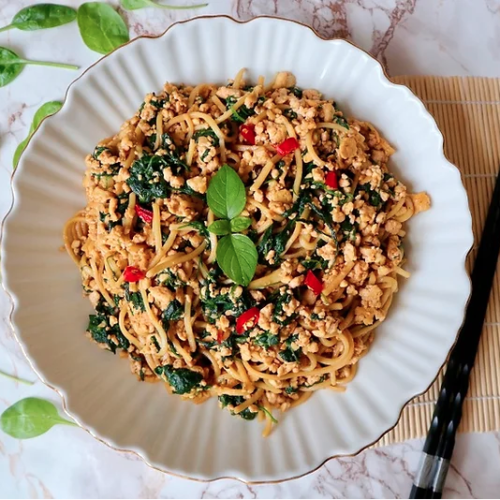 Pan Mee with tofu crumbles (onion and garlic free)
Ingredients
350

grams

Tofu

(firm, drained, pat dry, mashed)

6-9

units

Brown mushrooms

(diced)

0,5

tsp

Salt

1

handful

Basil

Sesame oil
Sauce
1.5

tbsp

Soy sauce

1.5

tbsp

Vegan oyster sauce

2

tsp

Dark soy sauce

2

tsp

Agave syrup

1

tsp

Salt

3

tbsp

Water
Instructions
In a heated non-stick pan, dry tofu crumbles until lightly brown by stirring continuously. Then add 1 tablespoon oil and continue to cook until tofu looks chewy/spongy, push aside.

Add another teaspoon of oil and saute mushrooms until cook. Add Stir in half of sauce and continue to stir until tofu absorbs all the sauce. Push the mixture to the side of the pan.

Meanwhile, cook the noodles according to instructions on packaging. Drain the cooked noodles out of cold water, add some sesame oil and stir well. Put aside.

Serve warm with blanched green veggies (Optional)