BAKED BABY POTATOES WITH ASPARAGUS
Portion: 4
Preparing time: 10-15 min.
Cooking time: 35 min.
Total time: 50 min.
Ingredients:
750 g baby potatoes
Min. 5 – 10 pieces of asparagus
1 tomato 30g
1 smoked tofu 250g
250g mushrooms
50g Vegan cheese
300g oat cream
1 Lemon
5-10g Sweet ground pepper
10g Nutritional yeast
10g soy sauce
Salt, pepper, olive oil, dry basil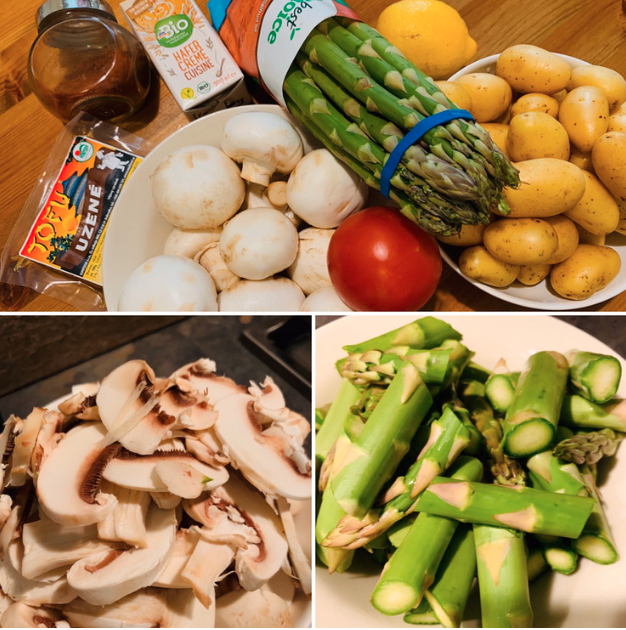 Intructions:
1. Preheat the oven to 180 degree. Boil potatoes (no peeled) for 15 minutes and add sliced asparagus for the last 2-3 minutes.
2. Meanwhile, cut tofu, mushrooms, tomato and asparagus.
3. Season mushrooms with olive oil, pepper, soy sauce, salt and dry basil. Bake mushrooms for about 15 minutes.
4. Heat the pan, pour in cream, add a little salt, pepper, sweet ground pepper. Add potatoes, asparagus, mushrooms, tomato, and add nutritional yeast, lemon juice, soy sauce, some sliced vegan cheese and stir. Cook it for around 5-10 minutes.
5. Then put cooked veggies in a baking pan and put in the oven for minimum 5 minutes at 180 degree.