PEANUT BUTTER CHOCOLATE OAT COOKIES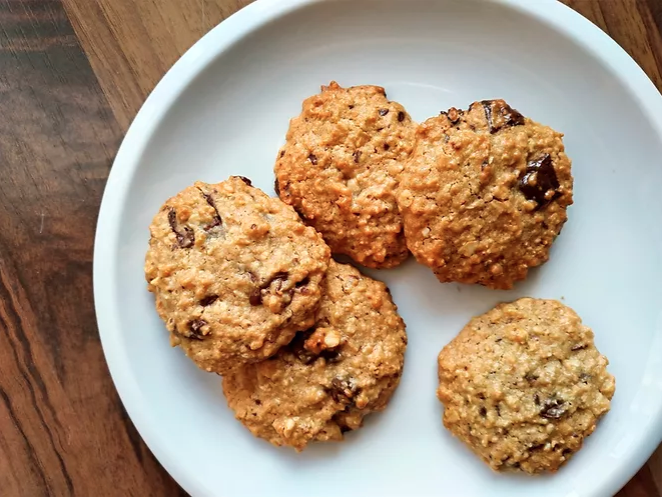 We prepared an easy and quick recipe for vegan gluten free cookies from ingredients you probably already have at home (nothing exotic). The flavour is a favourite combination of peanut butter and chocolate.
So soft and crunchy at the same time!
Portions: 10-20 cookies (depends on the size)
Preparation and baking time in total: 30 minutes
Ingredients:
130 g peanut butter (you can experiment with different nut butters as well)
110 ml syrup of choice (we used agave syrup, but you can also use maple, rice or date syrup)
2 tablespoons of hot water
150 g gluten-free fine oat flakes (if you're not on gluten-free diet, you can use regular fine oat flakes)
1/4 teaspoon baking powder
1/4 teaspoon baking soda
1 teaspoon vegan egg replacement (we used Vegavajo from Adveni, you can buy it in Country Life) – optional, can be baked without it
60 g dark chocolate cut in small pieces or chocolate chips
pinch of salt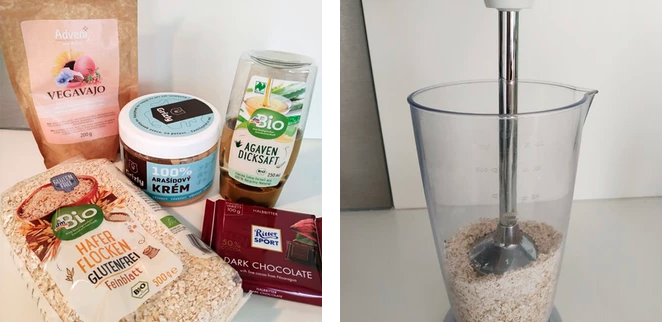 Instructions:
1. Blend oats with a hand blender (or in a blender) until it's almost flour, some pieces can be left un-blended for a better texture. Add baking powder into the blended oats.
2. Mix wet ingredients in a bowl – peanut butter, syrup, hot water (hot water will make mixing with peanut butter easier) and vegan egg. Stir well then add blended oats and stir all into compact dough.

3. Add cut chocolate and pinch of salt. Stir again thoroughly. Line baking sheet with baking paper and use spoon to pick up pieces of dough, then shape them into circles on the baking paper. We made 16 cookies from this amount of dough, you can make more or less, depending on how much dough you use for one cookie.

4. Preheat oven to 180°C and bake cookies for 10-12 minutes until golden.