CRISPY OVEN-BAKED MUSHROOMS WITH SPICY TAHINI DIP (ONIONS & GARLIC FREE)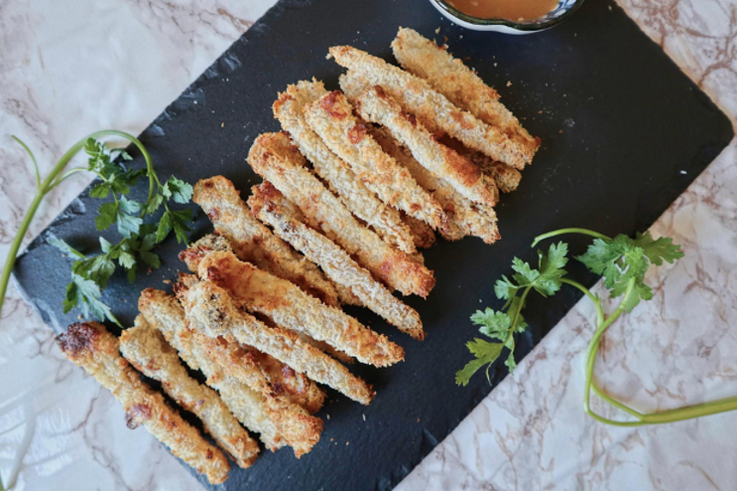 Portion: 2
Prep time:30 minutes
Cooking time: 20 minutes
Total time: 50 minutes
Ingredients:
10oz (approximately 280g) King Oyster Mushrooms – cleaned with a damp towel and cut into stick shapes
Oat milk (or use Aquafaba -chickpeas liquid)
Panko breadcrumbs – substitute with gluten-free breadcrumbs if needed
3/4 cup (120g) of rice flour
3 tablespoons tapioca flour/corn starch
1/8 tsp salt and dash of white pepper (adjust accordingly)
Oil for brushing (oil that can withstand high heat)
Spicy creamy tahini dip: Mix together 1 tablespoon tahini, 2-4 tablespoons of hot water, 1/2 teaspoon Lao Gan Ma's Chili sauce (or use sriracha), and 1 teaspoon soy sauce until well-combined. (Adjust accordingly)
Instructions:
1. Mix flours in a bowl with salt and white pepper set aside. Place the oat milk and breadcrumbs on separate plates.
2. Preheat oven to 475F (approximately 250 °C) and lightly brush a sheet pan with oil, set aside.
3. Dip mushrooms in this sequence:
3.1. Oat milk
3.2. Flour
3.3. Oat milk
3.4. Breadcrumbs
4. Place them on a baking sheet pan, then, brush mushrooms with a light coat of oil. Bake for 12-13 mins, flip and bake for another 5-10 mins until both sides become golden. (Adjust the temperature and time according to your own oven)
5. Serve with tahini dip.