VEGAN MEE GORENG MAMAK (ONIONS & GARLIC FREE)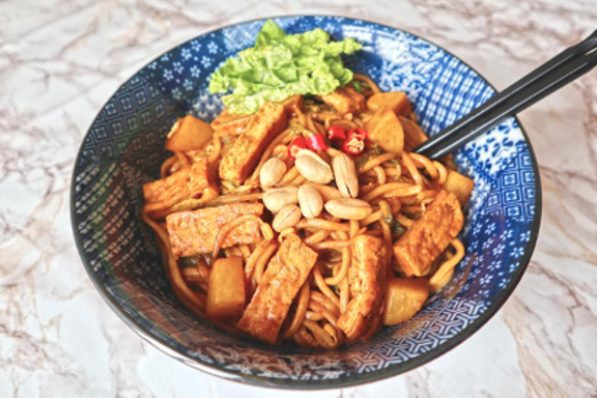 Portion: 2
Prep time:15 minutes
Cooking time: 45minutes
Total time: 1hr
Ingredients:
2 servings fresh wheat noodles of choice (cook according to the instructions on the package)
1 small potato (cut into cubes and boil in boiling water until tender)
200g firm tofu (drain, press and cut into slices; pan fry and season with salt)
40g chopped Napa cabbage⁣
5og Mung bean sprout⁣
1/2 teaspoon grated ginger
Oil for cooking⁣
Sauce:
1/2 tablespoon Lao Gan Ma's Chili sauce
2 tablespoons ketchup
2 tablespoons soy sauce
1/2 tablespoon dark soy sauce
1 tablespoon curry powder (Used SONNENTOR Curry sladké )
1 tablespoon agave syrup
120 g water⁣
Garnishes (adjust accordingly):
Shredded Napa cabbage
Chili slices
Ground peanuts
Instructions:
1. Mix all the sauce ingredients and set aside.
2. Heat a wok with 1 tablespoon of oil, then saute ginger until aromatic. Add in the chopped Napa cabbage and noodles, then toss to combine.
3. Push the cabbage and noodles to the side of the pan and add a drizzle of oil (if needed), then add in the cooked potato cubes, tofu, and slowly add in the sauces. Using a wok spatula, stir-fry while mixing all ingredients together until well-combined. Quick tip: Try not to stir too hard otherwise the noodles will be broken into tiny threads.
4. Fold in the mung bean sprouts and cook for another minute. If you prefer a softer mung bean sprouts texture, increase the cooking time. Season accordingly.
5. Garnish with shredded Napa cabbage, chili slices, ground peanuts and a squeeze of lime juice before serving.