VEGAN SUMMER COLD PASTA PEA, CHERRY TOMATOES & OLIVES (ONIONS & GARLIC FREE)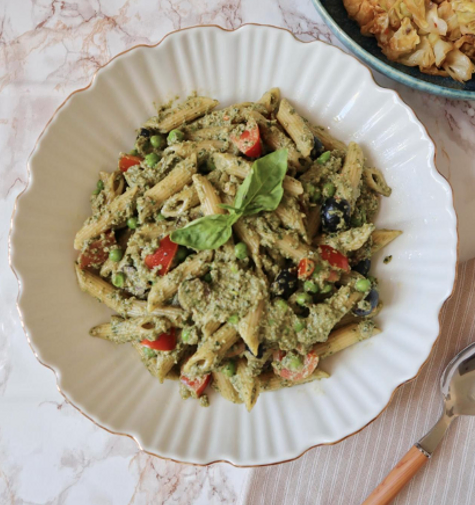 Portion: 2
Prep time:15 minutes
Cooking time: 15 minutes
Total time: 30 minutes
Ingredients:
140 g of RUMMO Penne Rigate
100 g of peas
75 g of cherry tomatoes
35 g of black olives
1/2 zucchini
1/2 bunch of basil
15 g of walnuts
12g of almonds powder
Salt and pepper
Instructions:
1. Bring the boiled water to a pot, add a pinch of salt, then add the peas in and boil for 2-3 minutes. Set aside.
2. Use the same pot and add more boiled water (if needed), add salt to the water and toss the pasta, cooking it according the instructions of package.
3. Cut zucchini into chunks and put it in the glass of the hand blender or in the food processor. Add the basil, almonds, salt, oil and a drop of olive oil/water. Blend until get a soft cream.
4. Cut the cherry tomatoes into quarters and coarsely chop the walnuts. Drain the pasta and toss with the zucchini cream, peas, cherry tomatoes, olives and walnuts. If it is too dry you can add a drizzle of oil or a little cooking water from the pasta. Season with salt and black pepper accordingly.
5. Serve warm or cold.