Ingredients:
2 larger potatoes
2 carrots
1 larger parsley
6 mushrooms
1 tablespoon vegan butter
2 tablespoons marjoram
2 tablespoons spelled flour / gluten-free flour
2 tablespoons flakes / gluten free flakes
parsley / carrot stem
Salt, pepper, cumin, satureja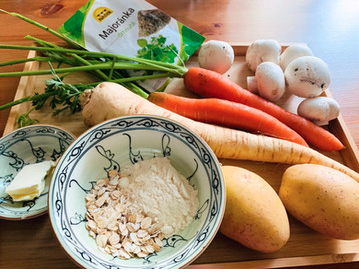 Instructions:
1. Cut the vegetables into smaller pieces.
2. Heat the butter in a larger pot and add the vegetables and fry them. After a while, add the flour and flakes and continue stirring.
3. Add a liter of water and marjoram, salt, pepper, cumin, satureja.
4. Cover with a lid and cook, stirring occasionally, until the potatoes and vegetables are soft.
5. At the end, add chopped parsley and carrot stem.
Enjoy!
More recipes can be found on our
blog.