Portion: 1-2 people
Preparation time: 30 minutes
Cooking time: 20- 23 minutes
Total time: 50 – 60 minutes
Ingredients:
Basic choices: sweet pepper, mushrooms, broccoli, cauliflower, small tomatoes, squash, tofu
Optional choices as you prefer. There is no strict rules for your own plate, but pay attention to the different time use of different kinds of veggies.
Spices and seasoning: vegetable oil, salt, soy sauce, syrup or sugar;
sweet pepper powder, chili powder or flakes, sesames, cumin for the cauliflower.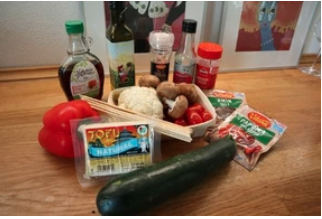 1.Cut the veggies into proper size, depending on personal preference. And then string them with the wooden sticks or just put them nicely on the baking tray.
2. Mix the seasoning together, and apply it on the veggies evenly.
3. Sparkle the spices on the prepared work.
4. Put the baking tray into the oven which is preheated to 180℃.
5. After 20 minutes or so, take the roasted vegetables out and enjoy your meal.

(The time is determined by your oven condition and the cutting size of food)