VEGAN TEMPEH AND BRUSSELS SPROUTS (ONIONS & GARLIC FREE)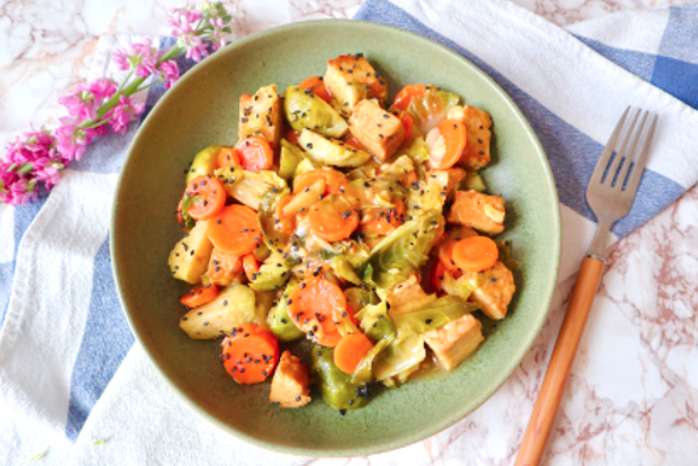 Portion: 2
Prep time: 10 minutes
Cooking time: 20 minutes
Total time: 30 minutes
Ingredients:
125g of tempeh (cut the tempeh into cubes )
1-2 slice ginger
1 carrot (cut into traversal slices)
125 g of Brussels sprouts (halved or cut one into 4 pieces, adjust based on the size)
200 ml of water
2 teaspoons of cornstarch
1 1/2 tablespoons of soy sauce
1 1/2 teaspoons of lemon juice
1 1/2 teaspoons of sesame oil
Salt and pepper
Black sesame to taste
Instructions:
1. Fry the temph in a non-stick pan with a drop of oil and a pinch of salt, about 3-4 minutes, until golden on all sides.
2. Fry the ginger in a non-stick pan until aromatic, add the carrots and Brussels sprouts and stir fry 2-3 minutes, then add some water to cover the veggies with the lid on and cook for a few minutes until become soften.
(or cook about ten minutes over low heat if you prefer to not add water)
3. Add the tempeh in, mix well, and cook for 2-3 minutes.
4. Mix the corn starch with the remaining water, soy sauce, lemon juice, sesame oil and pour into the pan, making sure that no lumps remain, letting it cook until the liquid has thickened, forming a soft cream.
5. Serve garnished with black sesame.