VEGAN TOFU KATSU NOODLE BOWL (ONIONS & GARLIC FREE)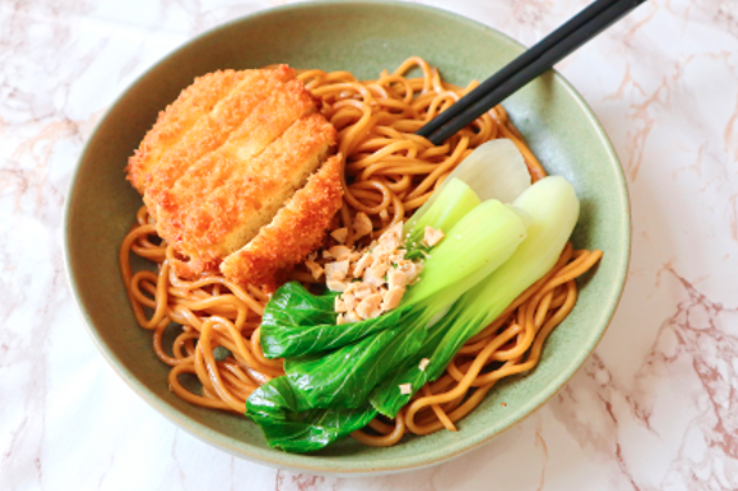 2 servings of noodles choice

–

cooked based on package's instructions⁣⁣⁣
150 firm tofu, pressed to remove liquid⁣⁣⁣
Blanched veggies (used bok choy)
50g all-purpose flour or gluten-free flour
60g cold water (adjust according to the flour's brand)
A few shakes of white pepper
Shiitake Mushroom Powder (optional)
Five spice powder (optional)
20g panko breadcrumbs or more if it necessary
2 tablespoons soy sauce/tamari
4 teaspoons vegan 'oyster' sauce
2 teaspoons dark soy sauce thick version
2 teaspoons toasted sesame oil
A few shakes of white pepper
1. Refrigerate tofu overnight to drain out the liquid.
2. Divide tofu into 2 large rectangle block and season with a little salt.
1. For the batter: mix together all-purpose flour, salt, and white pepper until all incorporated in a large shallow plate.
2. Add the water and stir to combine. The batter's consistency should be thick like a pancake batter, if not, add more flour or vice versa.
3. Dredge tofu in the batter, shake off excess, then coat with panko breadcrumbs.
4. Lightly press breadcrumbs into the tofu.
5. Heat up a non-stick pan with a thin layer of oil (enough to cover 1/3 of the tofu height). Then slowly place tofu in and shallow pan-fry until golden brown on both sides.
6. Try not to flip until one side is fully cooked. Remove and place tofu on a paper towel to absorb excess oil.
To make the Noodles and Serve
1. Place all sauce ingredients in a bowl and mix until well combined.
2. Cook noodles based on package's instructions.
3. Toss noodles with sauce until all incorporated. Season accordingly, if needed.
4. Serve tofu Katsu with noodles and blanched veggies.⁣