VEGAN TIELLA BARESE (ONIONS AND GARLIC FREE)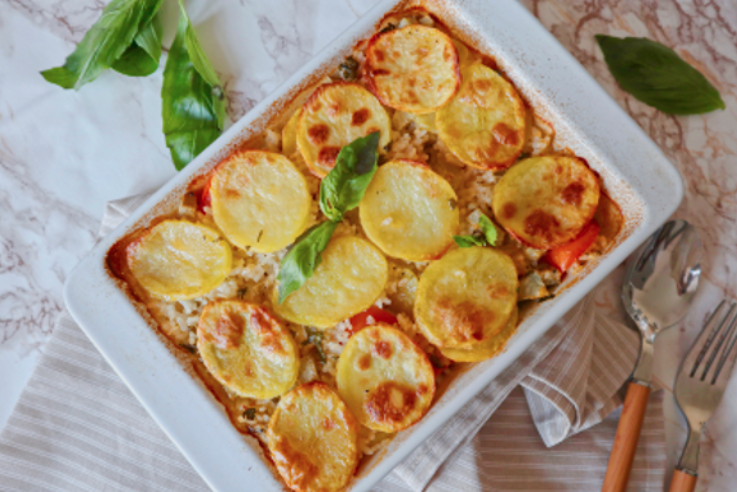 Portion: 2
Prep time: 25 minutes
Cooking time: 30 minutes
Total time: 55 minutes
Ingredients:
140 g of rice (Used SOS classic type)
200 g of potatoes
2–3 artichokes
100 g of cherry tomatoes
1 tablespoon of chopped parsley
200-300 ml of water
Salt and pepper
Instructions:
1. Slice potatoes into slices  about a couple of millimeters thick (keeping a little potato slices aside for the final layer), cut the cherry tomatoes into quarters and then proceed to clean the artichokes, removing the harder outer leaves, the top and the stem, then cut them in half, remove the internal beard and cut them into wedges.
2. Mix them in a bowl together with the rice and season with the salt, pepper, oil and parsley. Pour the mixture into a lightly greased baking dish, cover with the water and arrange the potato slices to completely cover the rice, seasoning them with a pinch of salt and oil.
3. Bake in oven at 250 ° C for 25-30 minutes until the rice is cooked and all the water has been absorbed. Remove from the oven, allow to cool slightly before eating.