SWEET & SOUR VEGAN "FISH"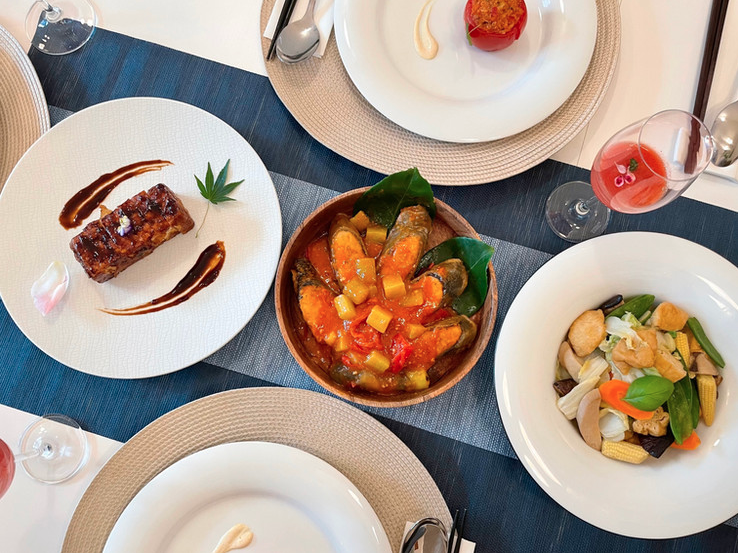 Ingredients:
240 g King trumpet mushrooms (rohlik.cz)
350 g firm tofu pressed
5 nori sheets
5 rice paper (22 cm / 25 cm recommended)
½ teaspoon syrup
½ teaspoon mushroom seasoning
1 teaspoon salt
dash of white pepper
1 teaspoon cornstarch
Sauce:
1 tbsp tomato paste (dm.cz)
1/2 tbsp rice vinegar
1 tbsp agave syrup
1 tsp lemon juice
1 tbsp soy sauce
1/2 tsp salt
1 medium tomato cut into cubes
33g chopped cucumber skin removed
Cornstarch slurry
1 tsp cornstarch + 1 teaspoon water mix to combine
Instructions:
1. Tear the mushrooms into large pieces.
2. Heat a nonstick skillet with 2 tsp of oil over medium-low heat. Sauté the mushrooms until they start to form a brown crust, 3 to 5 minutes. Season with a pinch of salt and transfer to a food processor.
3. Add tofu, breaking it into smaller pieces while adding. Season with sugar, mushrooms seasoning, salt, pepper, and a tbsp of cornstarch. Blend until thoroughly combined. Empty to plate and divide into 5 equal portions.
4. Setup up the wrapping station. Fill a shallow plate with clean water and prepare a smooth plate.
5. To make the vegan 'fish', dip a rice paper in the water and rotate a few times until you don't see any dry spot. The rice paper remains slightly firm. Place it on the plate and top it with a sheet of nori and press gently to adhere.
6. Add a portion of filling on the lower end of the sheet, then fold the left and right edges in. Lift up the bottom and loosely fold over the filling. Then roll it to the top to seal.
7. Add enough oil to a large skillet to rise about 1-cm up the sides. Set over medium heat. To test if the oil is ready, you can use a thermometer (aim for 325°F) or drop a small piece of dried rice paper into the oil (if it sizzles, then the oil is ready).
8. Gently slide the wrapped rolls into the hot oil, leaving ½-inch gap in between as the skins are sticky at this point. Shallow fry until a crust forms at the bottom. Turn the rolls with a tong and fry all sides until crispy, about 5-8 minutes. Keep an eye on the temperature, if it browns too quickly, lower the heat but maintain a sizzle when frying.
9. When ready, transfer cooked rolls to a plate lined with paper towels to absorb excess oil. Once cool, slice each log into 3 or 4 sections. Coat the open side that shows the tofu filling with a thin layer of cornstarch.
10. Using the same pan with the remaining oil, pan-fry the coated sides until golden brown. Set aside.
11. In a pan with medium heat, add water, ketchup, rice vinegar, syrup, lemon juice, salt, soy sauce, and bring to boil.
12. Slowly thicken the sauce with the slurry until it reaches your desired thickness. Please do not add all the slurry at once as it will turn lumpy.
13. Fold in the tomatoes and cucumber and toss for another 30 seconds. Finally, add the vegan 'fish' and gently toss until they are covered with sauce.