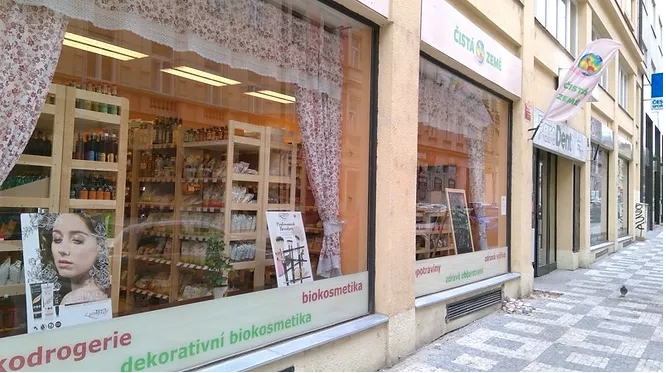 Vegan product | ČISTÁ ŽEMĚ
Nowadays more organic shops are emerging in the Czech market due to the fact that Czech people are getting more care about their health and the quality of the products they consume. In general, Organic food is the product of a farming system which avoids the use of man-made fertilisers and pesticides, growth regulators and livestock feed additives. Irradiation and the use of genetically modified organisms (GMOs) or products produced from or by GMOs are generally prohibited by organic legislation.

Čistá země, is an organic shop, open for 6 weeks so far, located on the street Londýnská in Prague. This week we interviewed the owner, Mr. Ivo Stanislav of Čistá země. Mr. Stanislav has been vegetarian for 6 years and his wife, 15 years. He used to work in an organic shop and later he started his own business with his wife in the same sector. He opened this vegetarian organic shop because he intended to offer to people the healthy products without harming animals. Čistá země is already the third BIO shop he opened. The first two, which are in Prague 4 and 9 now are under the management of his friends.
Čistá země's BIO products come from over 50 brands and 50% of them are Czech. There are more 1900 product items in the shop. All BIO products have BIO certification and Mr. Stanislav has close business relationships with farmers. He can see how they grow plants and produce food to garantee that the products they choose are not tested on animals.

The categories of products in the shop cover desserts, savour snacks, plant-based milk, flour, soya bean products, organic vegetatbles and fruits, spreads, pasta, cereals, sirup, vegan pudding, lifebars, super food including chia seed and quinoa, vegan baking products, organic nuts, tea, vegan cosmetics and eco-friendly home/kitchen products.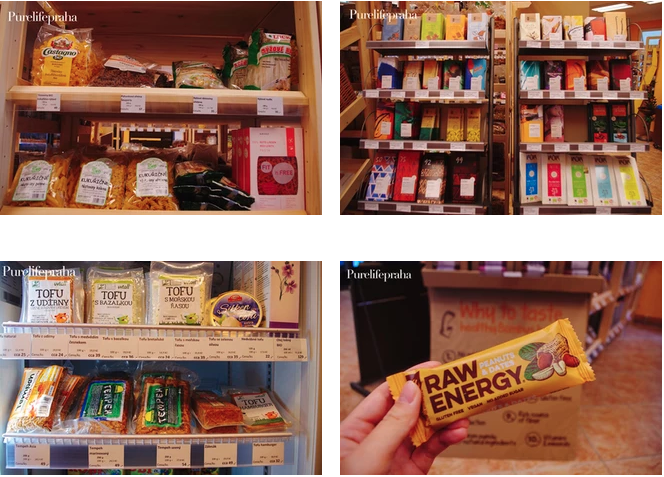 Vinohrady is an area where many expats live and 30%-40% of custmers are foreigners who show great favor in gluten-free products. Therefore, Čistá země sells gluten-free pasta, gluten-free flour, gluten-free snakes etc. Mr. Stanislav said that the most popular products are soya bean products, such as tofu, tempeh, vegan sausage, vegan bacon, vegan spread, soya yogurt, vegan cheese etc. We found a few pure vegan products that are free from pungent spices. You can find in the following photos.
The second popular products are vegan chocolates, cookies, spreads and other desserts. Most chocolates are from brand Vivani and Ichoc. Sweet spreads are mostly from brand Šufánek.

Thirdly, natural or vegan cosmetics are also sold well. Mr. Stanislav mentioned that PuroBio is an Italian vegan cosmetic brand that does not make any tests on animals. Most of the products are for make-up, such as BB cream, foundation makeup, eyebrow pencil, rouge. Nobilis Tilia is a Czech BIO cosmetic brand. Its products with affordable price are not just vegan, but also made with all natural ingredients. The skin care products of Nobilis Tilia includes daily care and special treatment such as various nature oil. Because of the close business relationship with the company, the prices of Nobilis Tilia's products at Čistá země are in linear with the ones on the Nobilis Tilia's offcial e-shop, without additional taxes or delivery costs.

In the end, we would like to mention two products: eco-friendly cup and bamboo toothbrush. Woodway is a young Slovenian company that offers natural fashion accessories for everyday use. The materials do not pollute the environment and are not harmful to people or animals. The cups are made of bamboo, corn powder and resin that are degradable, with aesthetic design and nice touch. The bamboo toothbrush is made by the brand Junior. The Junior bamboo toothbrush has natural, extra soft, straight-trimmed bamboo based bristles for the gentle and efficient cleaning of young teeth and gums. The head is a perfect size for little mouths and the bristles are made from bamboo dust mixed with nylon 4 – approximately 90% bamboo, 10% nylon.

Mr. Stanislav hopes to offer affordable prices to the market so that more people can have access to the healthy and organic products. If you want to try some organic and vegan products, Čistá země is a good choice!
More information can be found on the website of Čistá země: http://www.cistazeme.cz/
Open hours:
Monday-Friday: 7:30-18:30
Saturday: 9:00-16:00
Address: Londýnská 58 Praha 2
Telephone number: +420 778 132 200
Thank you for your reading!