ENOKI MUSHROOM CABBAGE ROLLS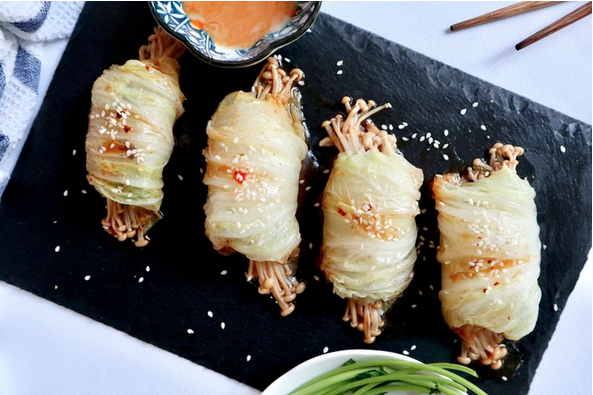 Portion: 2
Preparation time: 10 minutes
Cooking time: 15 minutes
Total time: 35 minutes
Ingredients:
Chinese cabbage: 6 slices
Enoki mushroom: 200g
Dry Shiitake: 3 pieces
Ginger
Sauce:
Soy sauce: 1 tbsp
Rice vinegar: 1 tsp
Syrup: 1/2 tsp
White pepper: 1/4 tsp
Potato starch: 1 tbsp
Salt: 1/4 tsp
Water: 1 cup (200-240grams)
Lao Gan Ma sauce (optional): 1/2 tsp
Instructions:
1. Boil a pot of water, when it is boiled, put a little salt and olive oil inside. Then boil the Chinese cabbage for 3-5 minutes, take them out when getting a bit soft.
2. Tear the enoki mushroom divided into 12 equal portions. Then spread a piece of cabbage and put 2 portions of mushrooms into it, place the head part of the mushroom outward on both sides, roll the cabbage up from bottom to top, try to roll tighten. Repeat this process another 5 times.
3. In a pan, put some sunflower seeds oil, heat it, and saute ginger first until it is fragrant. Then put the rolled enoki mushroom cabbage into the pan. Add some water (around 2 tbsp), cover the lid, and cook over medium heat for 5 minutes
4. In the waiting, prepare the sauce. Put all sauce ingredients together and mix well.
5. Add the prepared sauce into the pan and boil again. Cover the lid and cook for 5 minutes on low heat.
6. Turn off the heat and add some sesame oil. Serve warm.