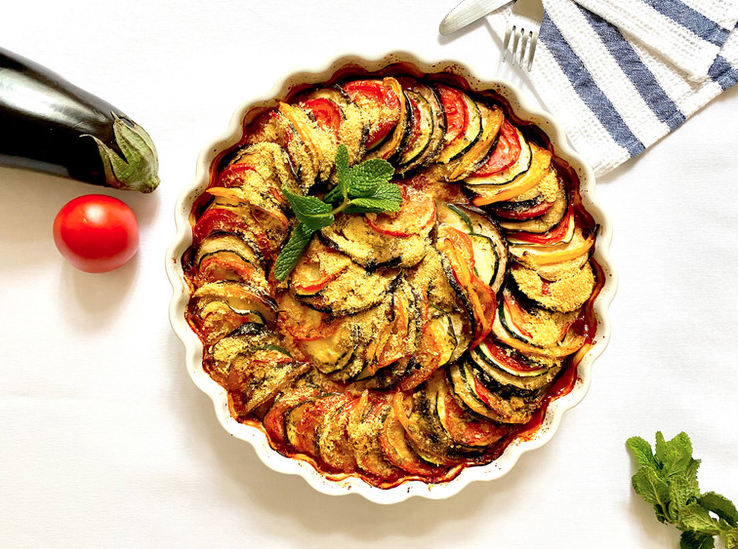 Portion: 4
Preparation time: 20 minutes
Baking time: 30-35 minutes
Total time: 1 hour
Ingredients:
Eggplant 320g
Zucchini: 280g
Yellow pepper: 35g
Tomatoes: 260g
Brown mushrooms (cut into minced pieces): 120g
Veganz soy granule: 30g (soak into hot 155g water for about 10 minutes before cooking, then get rid of water)
350 ml of tomato puree
2 teaspoons of oregano
1 teaspoon of thyme
Fresh basil
Salt and pepper
Extra virgin olive oil

Tool:
Bakeware with a diameter of 24 cm
Intructions:
1. Put in a pan a drizzle of oil until it begins to become transparent, add mushrooms and soya fry for 2-3 minutes, then add the tomato puree, 1 teaspoon of oregano, thyme, salt, and pepper and cook for about ten minutes until the paste has thickened.

2. Prepare the vegetables. Wash all the vegetables well, cut eggplant, zucchini, and tomatoes into slices about 4 mm thick, and the pepper into sticks.
3. Spread the tomato puree on the bottom of the baking mold and start arranging the slices of eggplant, zucchini, and tomatoes alternating them and forming concentric circles. Finally complete with the pepper sticks.

4. Mix a few tablespoons of oil with the remaining oregano and a pinch of salt and brush it to the vegetables well.
5. Bake your ratatouille in a static oven at 200 ° C for around 30 minutes, then take it out of the oven and let it cool before serving it with a few fresh basil leaves.