VEGAN CRISPY TOFU WITH MUSHROOMS, ASPARAGUS IN KOREAN KOREAN BBQ SAUCE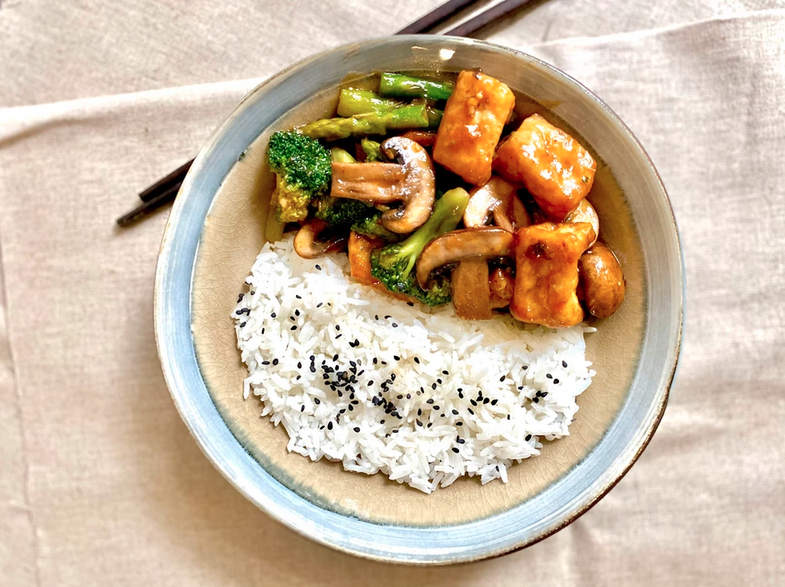 Portion: 2
Preparation time: 15 minutes
Cooking time: 15-20 minutes
Total time: 35 minutes
Ingredients:
Asparagus 150g
Brown Butter Mushroom 155g
Broccoli 95g
Extra-firm tofu 100g (or Tempeh)
Ginger 8g

For the Crisp tofu:
Cut tofu into bit-size cubes.
Toss with some soy sauce or low-sodium tamari to lightly coat each cube.
Place around 20g corn starch into tofu cubes, mix it until tofu cubes are coated with the corn starch.

For Korean BBQ sauce:
3 spoons (15.5g) soy sauce
1 spoon (6g) syrup
1 spoon (6g) rice vinegar
1.5 spoons (8g) sesame oil
1 spoon (5g) finely miched giner
1/2 teaspoon (2g) Lao Gan Ma chili sauce (optional)
In a medium bowl, mix all the above ingredients well.
For the corn starch water:
1.5 spoons (11g) corn starch
4/5 medium bowl (170g) water
In a medium bowl, mix cornstarch with cold water until it is dissolved. Set the bowl aside.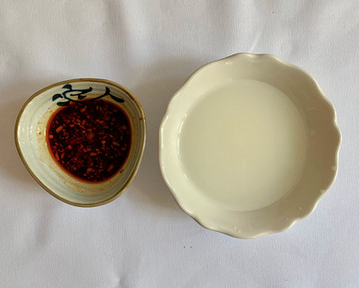 Instructions:
1. Heat oil in non-stick pan, add the ginger slices, and when the ginger slices are fragrant, add mushrooms and fry for 2-3 minutes. Stir-fry the mushrooms until they are about 80% cooked, then take them out for later use.
Add oil and coated tofu until two sides are golden.
2. Simmer the asparagus and broccoli in boiling water and take them out after about 2 minutes.
Add oil to the pan, then mix all the vegetables, including mushrooms, asparagus, broccoli and tofu, add salt, mix evenly and take them out for later use.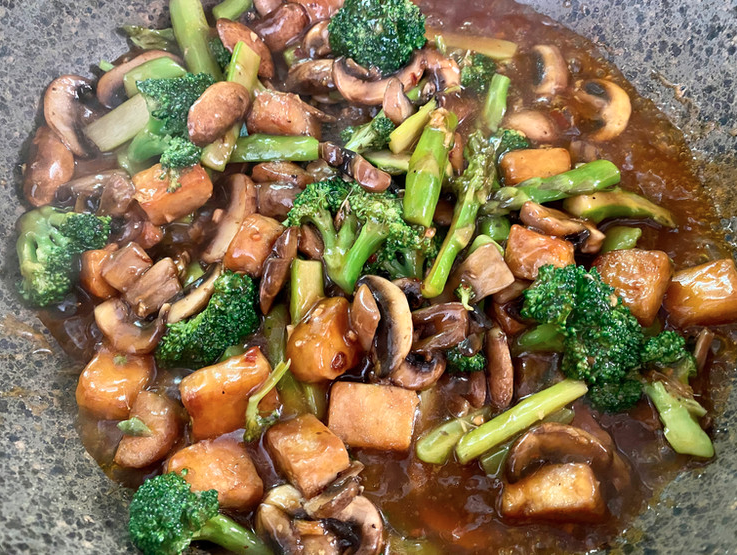 3.
Pour
Korean
BBQ
sauce
into
the
pan
first,
after
30
seconds,
add
the
dissolved
cornstarch
and
keep
whisking.
Pour
all
the
mixed
vegetables
(4)
into
the
pan,
stir
well
while
gently
heating
for
2
minutes,
and
then
take
out.