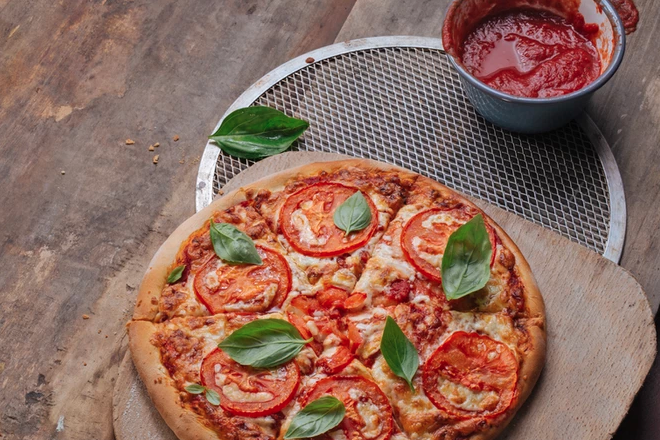 Portion: 2
Preparation time: 25 min
Baking time: 15 min
Total time: 40 min
Ingredients
For the dough ingredients:
350 g of plain spelled flour
1/2 teaspoon salt
6g baking powder
2 tablespoons olive oil
250 ml of water
1 teaspoon sugar
Sauce
6 tablespoons oat cream
1 teaspoon ground pepper
1 tablespoon flour
1 teaspoon nutrition yeast
Salt, pepper
Top (You can put different vegetables on pizza according to personal taste)
50 g mushrooms
2 big tomatoes
About 10 slices vegan cheese
About 6 slices smoked tofu
Dry basil, salt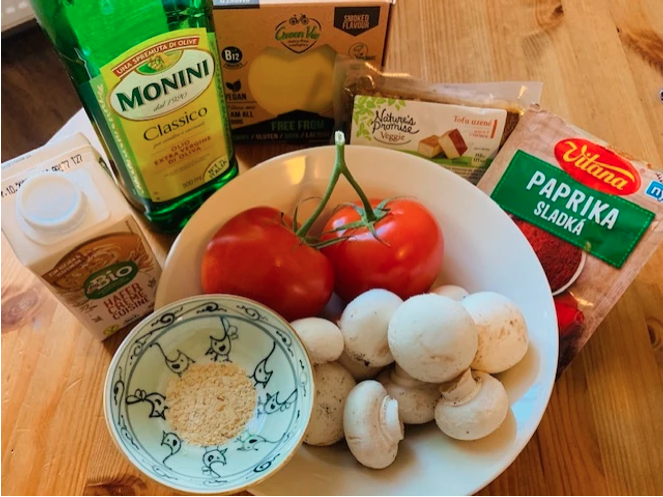 Intructions:
Preheat oven for 220 degrees
1. Mix the flour with salt, baking powder, sugar, oil and water. Knead the dough with your hands for 5 minutes, then cover it with a cloth and let stand for 15 minutes.

2. Cut mushrooms, tomatoes, tofu, cheese into thinner slices.
3. Heat the cream and add flour, salt, pepper, nutritional yeast, ground pepper while stirring constantly.
4. With wet or oiled hands, make 2 thin wheels with a diameter of about 30 cm directly on the baking paper, or spread the dough over the entire baking sheet. Spread the sauce and add the mushrooms, tomatoes, tofu, cheese, dry basil and salt.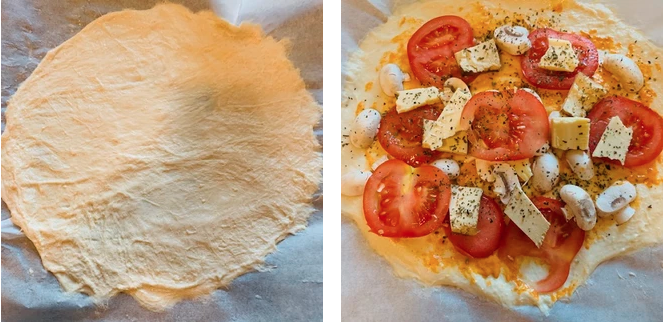 5. Bake until it turns into golden color for around 15 minutes.