NEMLÉKO: PLANT-BASED IS LEADING THE BEVERAGE TREND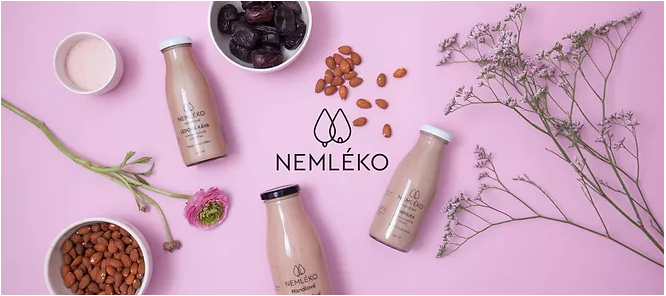 Vegan product | Nemléko | eco-friendly
"Plant-based milk" refers to the non-dairy milk and its history can be traced back to two thousand years ago in Eastern Asia. The earliest record of the soymilk was around the year 25 A.D. in China. The process of how to make the soymilk was engraved in a slate. In the traditional Chinese herbology scripture "Compendium of Materia Medica", it is written that the soymilk has the function of detoxification. A thousand years ago, the beverage "Horchata" was made with tiger nuts in North Africa.
The plant milk was found used as a condiment in the Eastern Mediterranean and Western Asia cuisine since the 13th century. For example, in Medieval England, almond milk, coconut milk and coconut cream were used in many traditional dishes, such as curry.
Soymilk appeared in the American market since 1945. Because the soy contains high protein and nutrition, soymilk soon became the best seller among other types of milk until 2013, when almond milk surpassed soymilk and became the most popular plant-based milk in the USA. In Europe, the European dairy alternative market is driven by the change in consumers' lifestyles and eating habits. This happens, on the one side, due to the fact that more and more people consider plant-based products are healthier since antibiotics and growth hormones are often found in the cow milk. On the other side, the growing number of vegans increases the demand for plant milk as well.

Nowadays, besides people, who are intolerant or allergic to conventional milk, naturally turn to the plant milk. Those, who prefer to try different types and flavours "milk", consume it as well. You can find diverse types of plant-based milk in the supermarket, such as almond milk, rice milk, soymilk, oat milk, coconut milk, cashew milk, hemp milk etc.

Nemléko (Not-milk) is a popular Czech local plant-based milk brand, established by Amalie and David in 2016 when he was 21 years old. Since 15 years old, David with his few classmates made a "school business": selling the fresh juice at school. At that time, every day they got up at 5 o'clock in the morning; went to Tesco to get fresh fruits; squeezed them with hands and sold the juice to students. David said: "I knew that one day I'll make my own business''.
In the beginning, Amalie and David were making the homemade almond milk by themselves. Then they wished to share it with more people so that they started to produce their first "Nemléko": almond milk and sold it on the 2016's Veggie Naplavka. Afterwards, Nemléko encountered the capital shortage, and they turned to their fans. Their crowdfunding campaign "Fall in Love with Nemléko" raised half a million crowns and they could fulfil their promise – to begin producing poppy seed Nemléko.

After almond milk, Nemléko started to produce Nejogurt (Notayoghurt) and Nemáslo (Notabutter) and in total, there are 17 products, whose main ingredient is either almonds or poppy seeds, which guarantee the products a delicious and rich flavour. David said: "we don't put any unnecessary additives in our products, sweetened only with dates instead of sugar. Nemléko's products can be found in 250 shops in Czechia and Slovakia.
We are touched by the Nemléko's company culture. People who work in the company eat only vegan dishes there and do not take any meat there; moreover, employees take turns to cook for each other. "For example, I cooked the lunch for everyone today," David said. This reminds us "Wework", which takes meat off the company's menu. More and more corporates are considering the environmental impacts when they decide the company policies. Corporates are not only firms that are focused on making profits but also responsible for leading a righteous direction of the community and society. In the 21st century we hope besides material success, we can forge the brilliance of our humanity as well.

in one book, it is written:
In the movie "Pocahontas", it is mentioned: "How far a person can go in this life is not determined by his legs, but by his heart." With kindness, we illuminate each other.
You can find more information about Nemléko below:
Website: https://www.nemleko.cz/
Blog with recipes: https://www.nemleko.cz/vkuchyni/ (only in Czech)
Thanks for your reading!