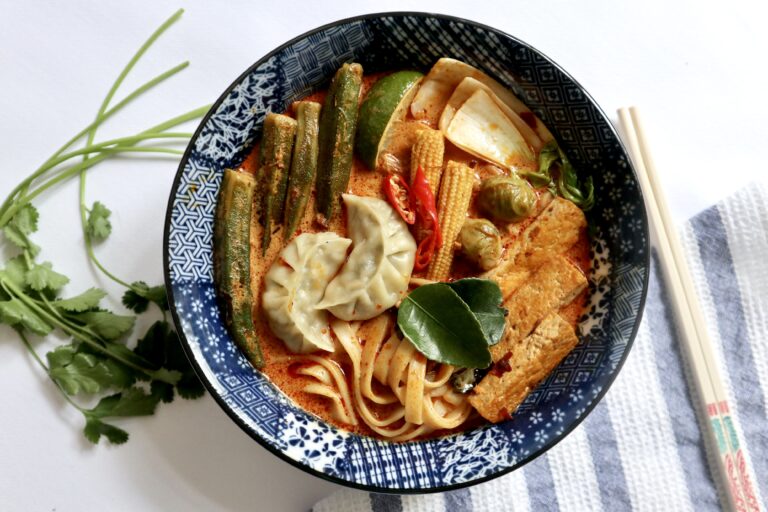 Portion: 2
Preparation time: 20 minutes
Cooking time: 20-30 minutes
Total time: 50-60 minutes
For the curry soup base
1 teaspoon oil
2 teaspoons ginger( finely chopped)
Chili paste
1/2 tablespoon Lao Gan Ma chili sauce (It can be bought Čajovna – U Modrého Slona shop.)
1/2 teaspoon turmeric
1 small chunk ginger
1/2 teaspoon tamarind paste
1/2 teaspoon sugar
1/2 teaspoon saltngredients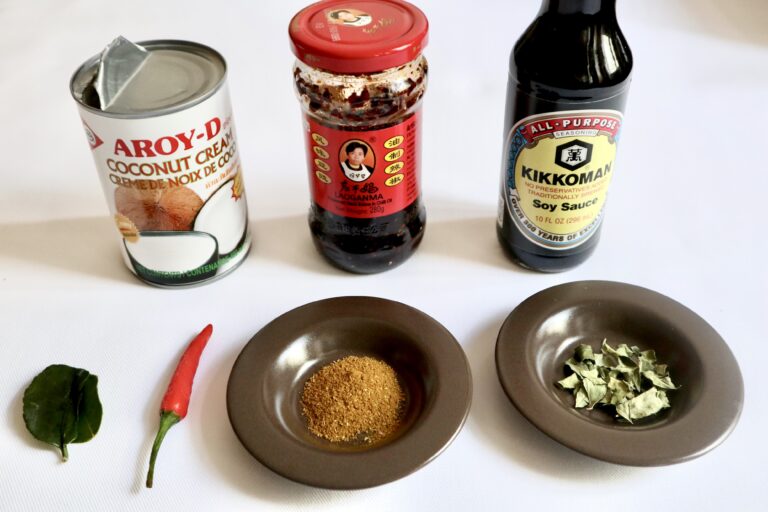 Pure diet | Pure vegan ingredients
A handful dry curry leaves
160g coconut milk
Salt to taste
Soy sauce to taste
For the topping vegetable
200g tofu
100g okra
100g baby corns
1 bok choy
6 brussels sprouts
4 homemade dumplings
1/2 lime
For the noodles
120g dried noodles of your choice (used udon)
Pure vegan diet | vegan nutritious
INSTRUCTIONS:
1. Cut the tofu into strips. In a heated non-stick pan with a drizzle of oil, pan-fry tofu until golden brown on both sides. Season with a pinch of salt and set aside.
2. In a big tall pan with oil, sauté ginger until fragrant. Add in chili paste and water, bring it to boil. Add the tofu to the soup, let them better absorb the taste of the soup. Add coconut milk and stir well, season it with soy sauce and salt, then let it cook for about 5 minutes. Add curry leaves for the aroma.
3. Boil baby corns, bok choy, brussels sprouts, and okra in boiling water for 2-3 minutes respectively. Set aside.
4. After the water boils, put 4 dumplings in a steamer and steam them on medium heat for 10-15 minutes. (You can also try the potstickers style)
5. Cook the udon noodles based on package instructions.
6. Put the cooked noodles in a serving bowl. To serve a ladle of hot curry and the vegetable over the noodles. Squeeze lime juice.